The role of the Regulatory bodies in assuring food quality and safety
Regulatory agencies are mostly put up by the government to control or regulate the activities of all actors along the food chains. The aim is to offer consumers a broad protection against food safety hazards as well as fraud in the production, processing, labelling, packaging, transportation, advertising, and the sale of food and food products.
The Kenyan food safety control system is multi- sectoral in approach. The multi-sectoral approach to the Kenyan food safety management mechanism is reflected in various legislation enforced by various ministries / departments of government and regulatory agencies. The government has also brought up various agencies to aid the control process including: Kenya Bureau of Standards (KEBS), Kenya Agricultural Research Institute (KARI), Kenya Plant Health Inspectorate Services (KEPHIS), Department of Public Health (DPH), Weights and Measures Department (WMD), Government Chemist's Department, Department of Veterinary Services (DVS), Kenya Dairy Board (KDB), and Horticultural Crops Development Authority (HCDA), among others [10].The functions of these agencies include sensitization and implementation of codes of hygiene and agricultural practices by stakeholders throughout the food chain.
To control each sector in Kenya, ACTs have been put in place to offer guidance. There are 22 legislations for food safety and quality under the various Acts of parliament, implemented by the different agencies. The basic Kenyan laws for food safety enforced by the department of public health include the Food, Drugs and Substances Act, Chapter 254, the Public Health Act, Chapter 242, the Meat Control Act, Chapter 316, Liquor Licensing Act Cap 121, and Traditional Liquor Act Cap 122 [10].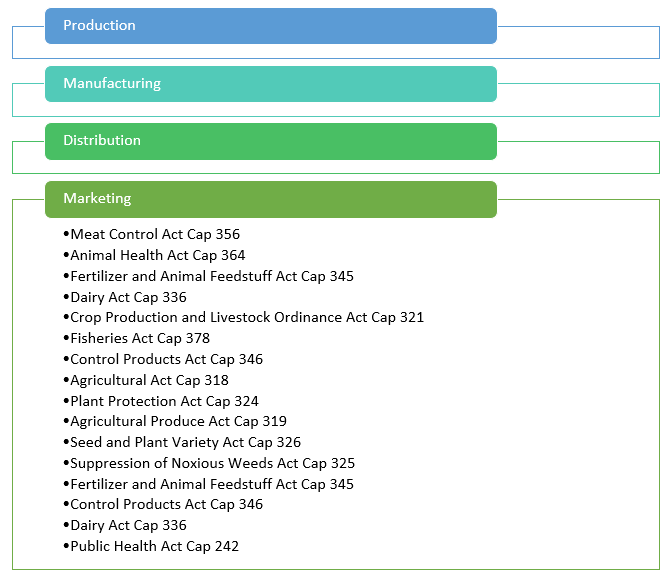 For instance, it is the role of public health officers to ensure that food retailers have put in place modalities of ensuring and assuring food quality and safety. Failure leaves the retailer culpable. The public health ACT stipulates the following:
"No person shall sell or expose for sale or import or bring into any market or have in his possession without reasonable excuse any food for man in a tainted, adulterated, diseased or unwholesome state, or which is unfit for use, or any food for any animal which is in an unwholesome state or unfit for their use, and any medical officer of health, veterinary officer, sanitary inspector, meat inspector or police officer of or above the rank of Inspector may seize any such food, and any magistrate on the recommendation of the medical officer of health, a sanitary inspector or a veterinary officer may order it to be destroyed, or to be so disposed of as to prevent it from being used as food for man or animal as the case may be."
Government key control programmes:
Food safety surveillance is implemented base upon specific legal provision. For instance, there is Antimicrobial Resistance (AMR) programme in meat value chain. Also, in the event of a safety issue related to a food product, food recall is done by both the private sector and the government. The recall is mandatory, coupled with public sensitization and participation, Read more!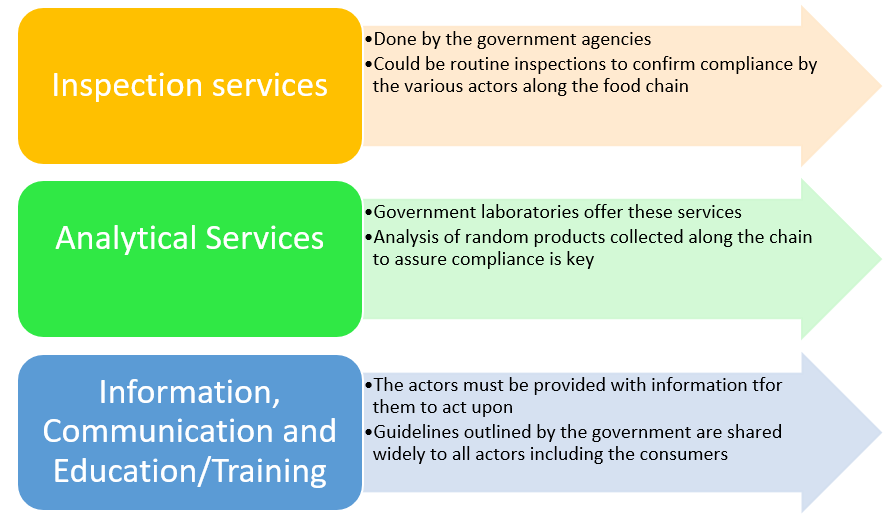 Core Elements of Regulatory Systems
According to Buckley and Riviera, [11] having safe food and medical products is a cornerstone of public health around the world. There is far more than one way to get a regulatory framework coordinated. In its analysis, the committee reviews a number of different policy and administrative tools that government agencies can use to ensure safe food products are manufactured, labelled, distributed and marketed. Although the mechanisms used may vary from country to country, successful regulatory systems have a number of common features [11]. These include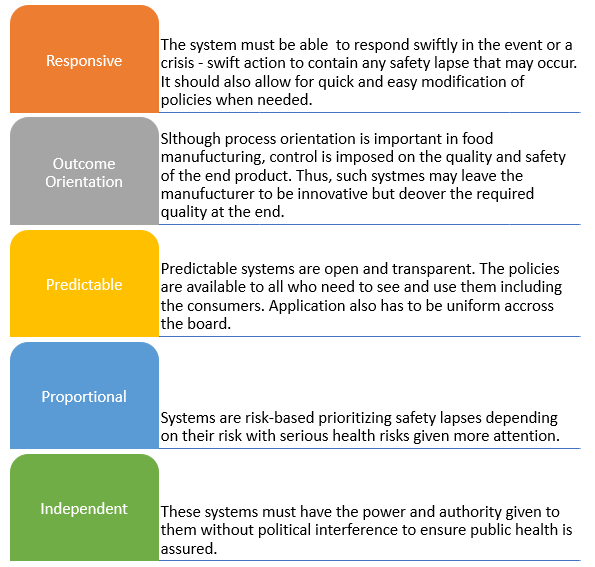 Elements of a Food Product Regulatory System
According to Buckley and Riviera, [11] the government is the foundation for any strong food product regulatory system. The governments therefore should:
• Use the science and risk as a basis for policy development;
• participate in global cooperation and standard harmonization;
• Making ethical choices;
• Recognize, obtain and convey evidence where there are violations of the law.